Hearing Instrument Specialist
Lucas was born and raised in Cambridge, Ontario and lives there with his wife Melissa and 2 cats George and Archie.
Lucas attended Conestoga College in Kitchener where he graduated from their Hearing Instrument Specialist program in 2017. Lucas has always had an interest in healthcare but more so with the rapidly changing technology in healthcare. Hearing aid technology is always advancing and improving so this career is a perfect fit for him. As a Hearing Instrument Specialist Lucas is excited to share his knowledge of this ever-changing technology with patients to better help them hear.
In his spare time, he likes to play and watch sports, specifically soccer and basketball. Outside of work he takes a lot of pride in being active and living a healthy lifestyle. He spends a lot of time going to the gym and cooking fresh healthy meals at home.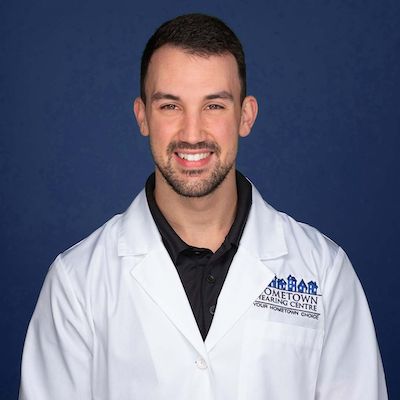 What's your favourite place to eat around here?
Martini Bar and Patio - Kitchener, ON
If I weren't so damn good at my job, I'd probably be?
A Professional Athlete - Soccer Player
When you were 5, what did you want to be?
I wanted to be an astronaut
Schedule a Free Hearing Test
Being able to hear children laughing, a conversation with your best friend, your favourite TV show, birds chirping, the sound of crickets on a warm summer evening or other sounds you love help make life worth living.
With a comprehensive hearing assessment conducted by one of our professionals, you can help ensure that you can hear as long as possible.
Contact the Southern Ontario Hometown Hearing Centre location nearest you in order to schedule a hearing assessment by using the adjacent form, and a member of our team will call you in order to provide assistance.
Don't want to wait? Call us today. Click here to find your nearest location.