Andrea dreamed of having a career in the health field where she could relate directly with patients and yet have tasks that demand accuracy and application of knowledge. While studying at Western University, she was delighted to discover this blend in the field of audiology, especially since the ability to hear conversation is such a significant part of being human and many other sounds have heartfelt meaning.
As a clinician, she can get to know what unique challenges her patients face and journey with them when hearing loss is present. She began her career in 2003 as a registered audiologist (CASLPO) after completing her Bachelor of Health Sciences and Master of Science (Audiology) degrees. She has experience working with patients of all ages (newborns to centenarians) in multiple settings including private practice, ENT clinics, hospitals, and retirement homes.
Andrea seeks to make patients feel welcome in the clinic. She provides accurate hearing assessment and helps her patients and their families understand what they are experiencing. She enjoys guiding patients who are ready to try amplification and she counsels on how to implement communication strategies.
Andrea is married and has 3 school-age sons. As a family, they enjoy nature walks, board games, and time with friends and family. They are also very involved in their church community.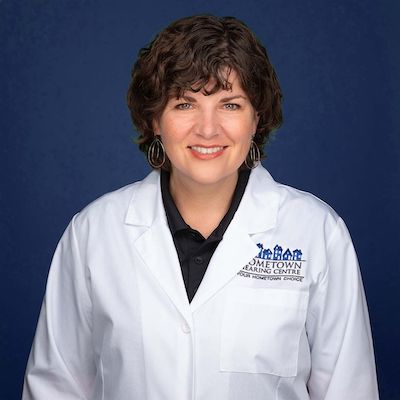 If you could go anywhere in the world, where would you go?
I would love to see mountains in Switzerland
If you could be any shape pasta, what shape would you be and why?
Lasagna because it has a bit of frill and I love anything with tomato sauce and cheese!
A loyal well trained dog that someone else owns.
If you could only eat one food for the rest of your life, what would you choose?
Pizza. It covers all 4 food groups and comes with many combinations!
Schedule a Free Hearing Test
Being able to hear children laughing, a conversation with your best friend, your favourite TV show, birds chirping, the sound of crickets on a warm summer evening or other sounds you love help make life worth living.
With a comprehensive hearing assessment conducted by one of our professionals, you can help ensure that you can hear as long as possible.
Contact the Southern Ontario Hometown Hearing Centre location nearest you in order to schedule a hearing assessment by using the adjacent form, and a member of our team will call you in order to provide assistance.
Don't want to wait? Call us today. Click here to find your nearest location.