Tinnitus is a common condition that can cause a ringing or buzzing sensation in the ears. It can be a symptom of hearing loss or an underlying medical condition. While tinnitus has no cure, treatments are available to help manage symptoms.
Hearing aids are one of the most popular treatments for tinnitus, and with so many options on the market, it can be challenging to know which one is best for you. Let's briefly discuss the best hearing aids to treat tinnitus so that you can decide which device is right for you.
We'll also discuss the features, benefits, and drawbacks of each of the top hearing aids, as well as discuss their overall effectiveness in treating tinnitus.
What is Tinnitus?
Tinnitus is a medical condition where an individual perceives sound in their ears or head even when no external sound is present.
The sound is often described as ringing, buzzing, or hissing. It can range from a mild annoyance to a debilitating condition that interferes with daily life.
How Can Hearing Aids Help Tinnitus?
Hearing aids can help relieve tinnitus's effects in many ways.
Hearing aids help to reduce the loudness of tinnitus by amplifying external sounds. This can help to mask the tinnitus and make it less noticeable.
This is especially helpful if the tinnitus is only perceptible in quiet environments, as the sounds from the hearing aid can help to reduce the perception of the tinnitus. Hearing aids also help improve communication by making it easier to hear conversations in noisy environments.
This can help to reduce the amount of mental energy devoted to listening, which reduces the perception of tinnitus. Finally, some hearing aids have features specifically designed to help with tinnitus, such as Bluetooth compatibility and custom fitting options.
Review of the Top 4 Hearing Aids for Tinnitus
1. Starkey Evolv AI – Starkey Evolv AI hearing aids offer superior sound quality that can be very beneficial for those with tinnitus. Not only are these hearing aids equipped with Multiflex Tinnitus Technology, which provides three types of maskers – audiogram-shaped, white noise, and fully customized – but they also come with tap control, hands-free calling, and fall detection capabilities.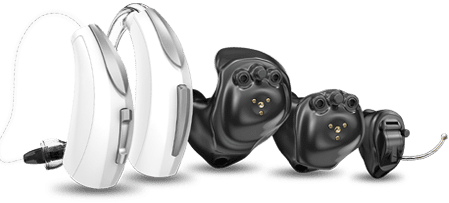 These features are further enhanced by great general hearing aid functionality. The fully customized approach requires more setup time but can provide the most relief.
Pros:
● Additional 40% reduction in noise energy to ease the strain of listening
● Include a one-year loss and damage warranty
● Many different hearing aid types to choose from
● Include a 30-day risk-free trial and Starkey's "worry-free guarantee," which covers protection against failure, damage, and loss
Cons:
● The price tag can be expensive for some people
● Not compatible with all hearing aid accessories or apps
● Only a few colour options
2. ReSound OMNIA – The ReSound OMNIA is a top hearing aid option for people with tinnitus, highly recommended by hearing experts. This device is known for its outstanding sound quality and seamless integration with the ReSound app.
The OMNIA is suitable for anyone with mild to severe hearing loss and offers powerful Bluetooth connectivity. The M&RIE (microphone and receiver-in-ear) feature is particularly beneficial for improving the perception of the wearer's voice and reducing wind and background noise.
Pros: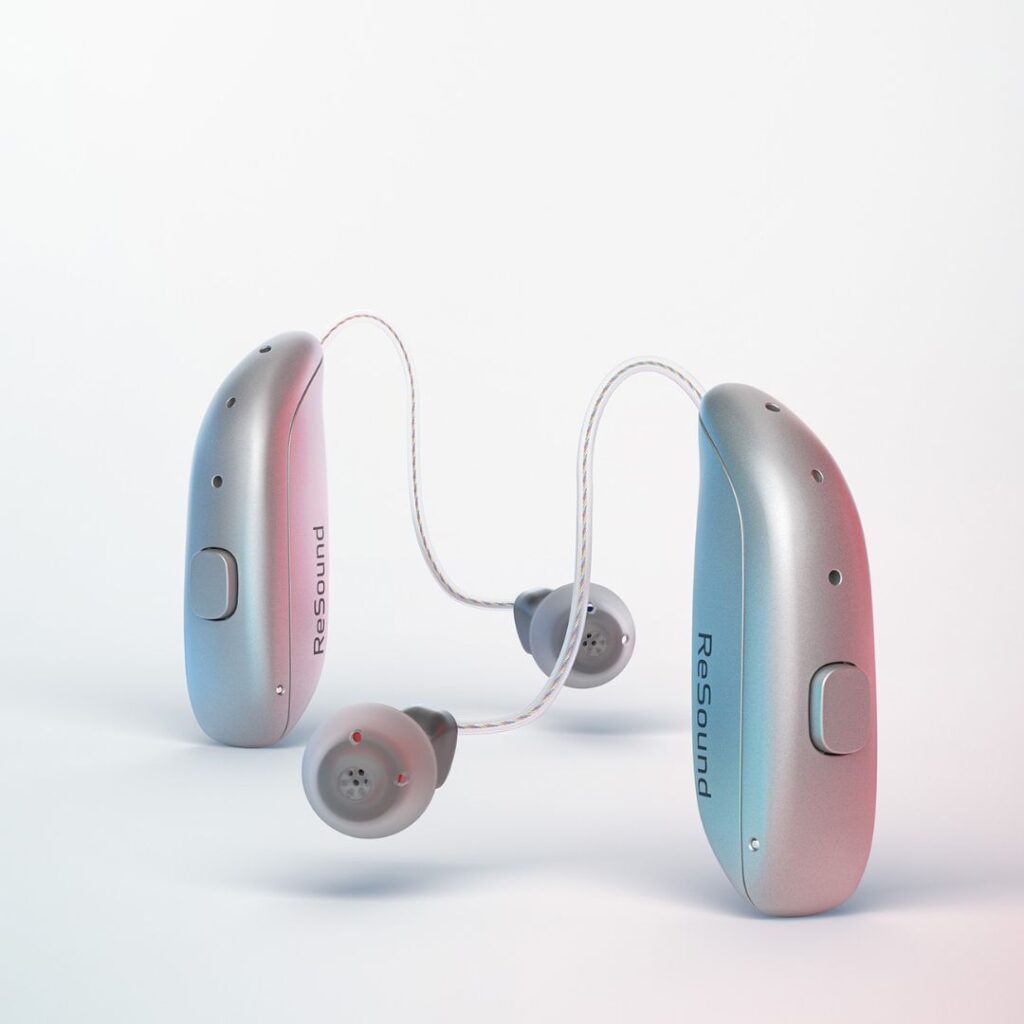 ● Advanced digital noise cancellation technology, which can reduce the perception of tinnitus
● Feature a tinnitus sound generator, which can be used to help mask the tinnitus
● Can be adjusted to individual preferences, such as sound preferences, loudness, and sound quality
● Compatible with smartphones – users can access apps to customize their experience further.
Cons:
● ReSound OMNIA hearing aids come with a limited warranty, meaning that if there are any issues with the product, users may not be able to get them repaired or replaced
● Available only in Receiver-In-Canal (RIC) style
3. Oticon More – The Oticon More has advanced sound quality and is designed to provide targeted tinnitus relief, allowing users to customize their sound therapy with Tinnitus SoundSupport.
This feature allows users to access four types of broadband sounds and nature sounds, allowing them to shape the sound to fill the sound void caused by hearing loss. With Oticon More, those suffering from tinnitus can find the relief they need.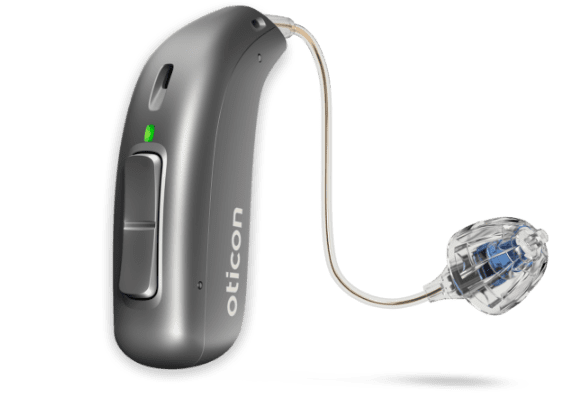 Pros:
● Provide superior sound quality and clarity, which can help to reduce the symptoms of tinnitus
● Come with a wide range of programs to help you adjust the volume and tone to match your individual hearing needs
● Discreet and comfortable to wear, making them ideal for those who want to maintain their appearance while managing their tinnitus symptoms
● Choose from eight different colour options
Cons:
● Only compatible with certain Android devices
● Oticon More hearing aids may not provide enough noise reduction for some users
4. Widex Moment – The Widex Moment hearing aid is an excellent choice for those with tinnitus. It integrates PureSound technology, which helps create a more natural sound experience for musicians and audiophiles. Also, it features tinnitus programs that can be customized with the help of a hearing healthcare professional.
Additionally, the Widex app provides ultimate tinnitus relief. It offers counselling, relaxation techniques, sleep exercises, and Zen fractal tones, a unique sound therapy treatment that is highly effective due to its unpredictability.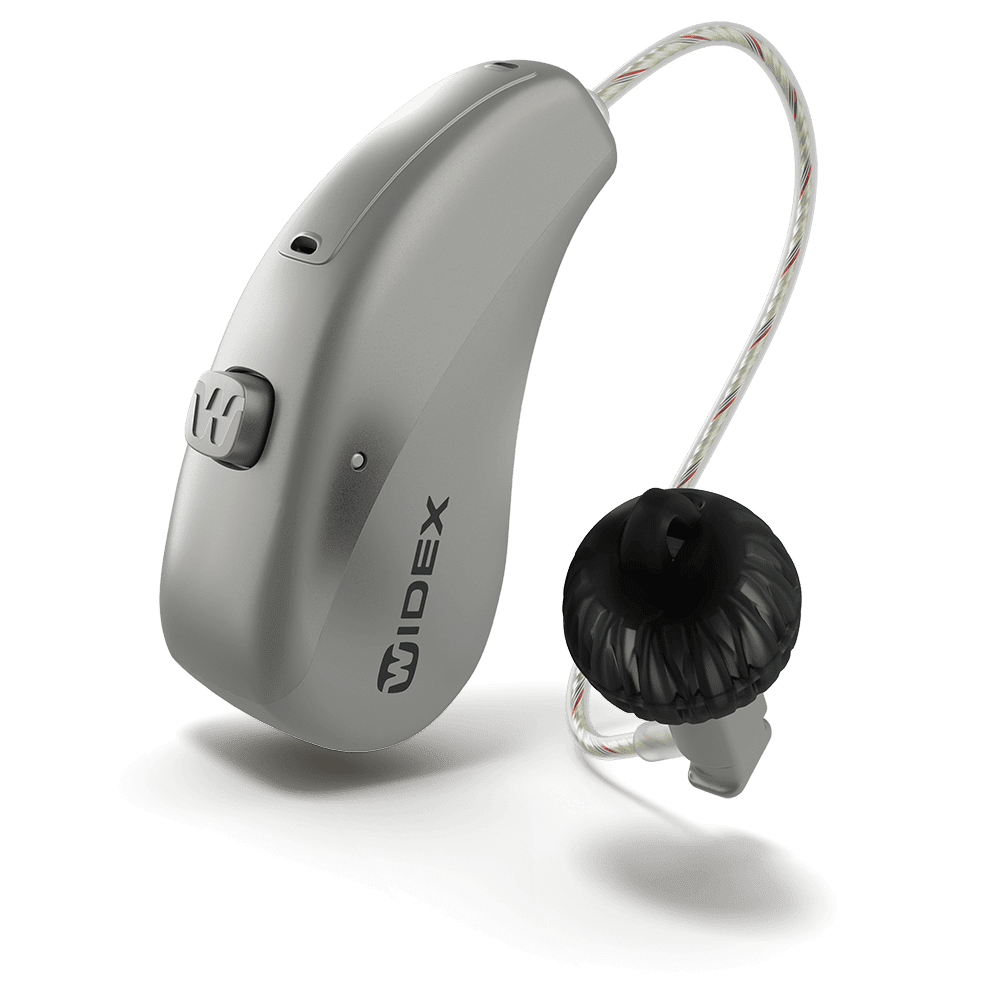 Pros
● Smallest rechargeable lithium-ion RIC hearing aids on the market
● More than ten colour options to choose from
● Compatible with iOS and Android
● Help to reduce the symptoms of tinnitus by providing a soothing sound to mask the ringing in the ears
Cons
● Limited rechargeability options
● Remote adjustment available but needs a special add-on adapter
How to Find the Best Hearing Aids for Your Tinnitus
A hearing test is the first step to providing relief from tinnitus.
A hearing test helps to identify any underlying causes of the condition, including hearing loss, which may contribute to tinnitus. It provides information about the type and intensity of the tinnitus sounds.
Our team of experienced hearing care experts can provide counselling and advice on managing your tinnitus.
A hearing test is the first step in determining the best treatment plan for matching you with the best hearing aid to manage your tinnitus.
You can also contact us anytime with all of your questions and concerns regarding anything hearing-related.